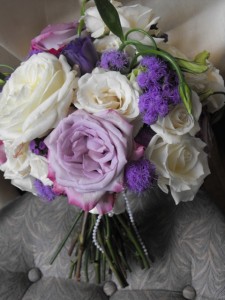 This was a very close contest!!  However the votes (or should we say "likes"!) have been counted and with 81 votes our runner up was Jamie and Jillian's Locust Grove Wedding, http://blog.anightinbloom.com/?p=1999 .  And our Grand Prize winners, winning $100 for themselves and $100 to the charity of their choice was Sarah and Dennis'  West Park Winery Wedding!!! http://blog.anightinbloom.com/?p=1814
Not only are they just the sweetest couple, but their charity was such a good one!  Sarah and Dennis asked that their charitable donation be made to a little baby named, Noah.  He was born just this past July, with a very rare condition known as Adams-Oliver.  There are many conditions that go along with this disease, but one of the most severe effects of it is that his skull was not fully formed.  He basically was born with no skull/skin covering the cap of his head.  There are several other symptoms he had, but this was the most severe. Since he has been born, Noah has had countless surgeries and many scares.  But one of the last surgeries he had was very successful in covering the wound with a skin graft which took 100%, and he is now home with his mommy and daddy.  He is thriving at home and now able to be a "normal" baby, not hooked up to monitors and such at a hospital.  This family has had the most trying 4-5 months anyone could ever imagine any family going through, with medical bills that I don't even want to imagine on top of everything!
Noah is the Grandson of one of Sarah's very good friends from work. There is a fund setup in Noah's name, the Noah Christopher Smith Fund, which helps with these outragous bills.  A Night in Bloom is delighted to make a donation to this charity, and for those of you who wish to do the same, or learn more about this remarkable baby and his family, here is a link to a page that Noah's parents setup for him, telling Noah's story (to read his story, go to the journal.  Go to the last page of the journal to start from the beginning of his story).
Anyone wishing to make donations directly to the family, please contact a Night in Bloom for the correct mailing address.
Congratulations Dennis and Sarah, and Happy Holidays to all of our couples!!!!  Huge
THANK YOU
to all the participants (and amazing photographers!) who helped make this contest possible!!!