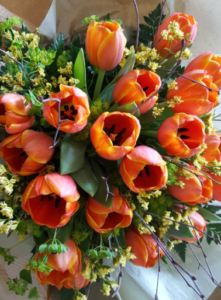 Hey flower friends, it has been so long!!!  Our winter was a long, but productive one!  For most of this winter we have accepted only Full Service Events and used this quieter time to revamp our more budget friendly options.  Well, as most of you know, we are now ready to begin taking on DIY, Quasi-DIY, and Rental only orders once again!  We have used the past several months to really streamline these processes on our end, ensuring everything runs smoothly for our couples and for us!  Please be sure to check out all of our new offerings on our updated website here:
We have added some more Off the Rack Packages, DIY Packages, and Rental Packages; which seem to be really popular, so look forward to seeing more pop up!
Now that our website and office related tasks are in order, we are in the process of clearing out some of our rental items to make room for some new inventory!  So we will be having a long overdue "Purge Sale"!  We are thinking it is going to be easiest to do this a little bit at a time, rather than have just one huge sale day, especially since we are now in the early part of wedding season.  Please be on the lookout on our Facebook page and Twitter for more details.
One final note on our new offerings is that I am getting more and more requests from up and coming florists,  wedding planners, and even a few seasoned florists for consulting services.  I am trying my best to find some useful and affordable ways to help this new group out, but please understand this is a totally new area for me and I need a little time to think it through.  As a little test I have added a section to my website with E-books.  The first one I have is geared to newer Wedding Planners and Stylists who are trying to figure out how to work with Baby's Breath.  It may seem like a simple enough flower, but I field questions almost weekly during wedding season about how to work with it.  Many of you need to know how much is in a bunch, how many can I fit in a galvanized pail, how many go in a Mason Jar? etc.  For $5 I can help you out! Please check it out here:
https://anightinbloom.com/Ebook/Baby's%20Breath%20Guide
Our final order of business is updating our mailing lists, since so many of you have subscribed to our list over the past year! Thank you all so much!!!  I am really hoping to send out more mail to those of you who have subscribed with details about upcoming events and discounts.
I think that is more than enough news for one day!  I will try to make the next post have much more flower eye candy ;-)I hope you all have a wonderful spring season, please stay tuned for more!
Warm wishes,
Heather
Save